Critical problem with S1/S3 DNA sim (+358) watches
Update 11.10.2023 13:55. Since 11.10.2023 11:22 calls from outside of Finland have been working normally. The issue is now fixed.
Update 11.10.2023 10:59. Navigil number space was added to the Numpac number space. The verifying service does not get the numbers automatically so this issue is still not fully fixed. It was promised that the fix will be finished today.
Update 9.10.2023 14:59. The fix for the problem has been promised to happen 11.10.2023 between 9-10 Helsinki time.
Update 9.10.2023 11:19. Mobile operator DNA has informed us that the reason for the problem is the new requirement to prevent fake calls from Finnish numbers from abroad to Finland. This was put in effect last week and the Navigil number space was not included in the allowed numbers. The change to fix this can only be done on Wednesday. No specific time for the fix was informed.
Update 8.10.2023 11:25. For customers who have access to Navigil Service for 580 there is a report which will show call attempts from last 24h. The report will show the status to be OK if any call from that number has succeeded and NO REPORT if no call reports were recorded. The report is available for Company Admin users. Name of the report is RAFAELCALLATTEMPTS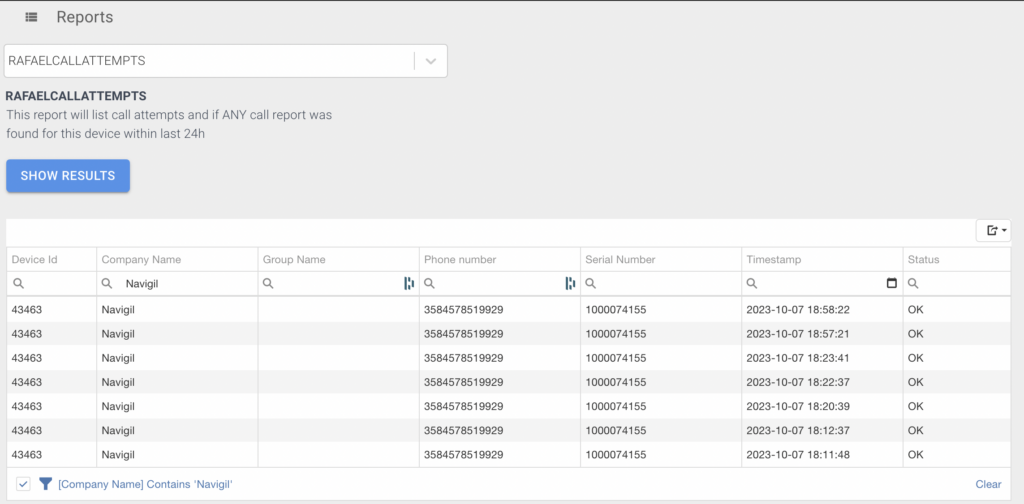 7.10.2023
There is currently a critical problem with Navigil watches using DNA sim cards when roaming. These are sim-cards having a phone number starting with +358. The issue does not affect watches which are using SCAIP for the phone calls.
All other functionality is working but when starting a direct call from a watch to a number or ARC the call never connects. This includes the help request calls made by pressing the alarm key or the speed dial calls from call menu.
Unfortunately this issue has been going on for some time. It was first examined as singular watch related incidents and it appears that the problem has started Sep 30th. After that date no roaming DNA calls have been arrived from affected watches.
There a some other reasons when calls appear to be failed for example if the user cancels the call before it is connected or if the network drops right after the call was started but those cannot be separated from this issue.
In the device log there will be a visible row showing Alarm call status -text. Normally after this there will be a report of the call but in this case the report is not there because the call never connects.

A workaround to be informed about such calls is to add a new email notification for SOS call initiated. Then when the user presses the alarm key there will be an email about the call. If no call will arrive then it would be possible to call the watch from the ARC or by designated care persons. This requires manual verification from the Rafael service.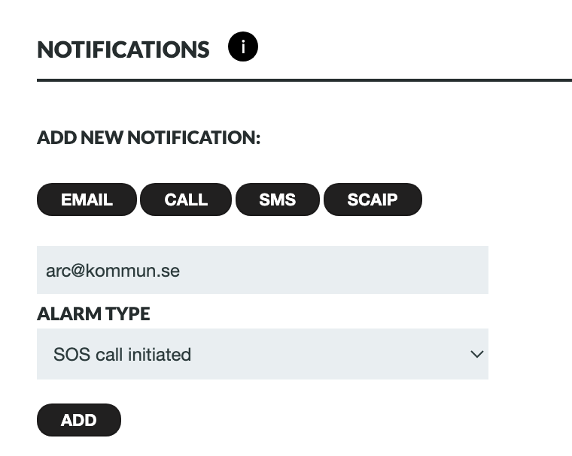 The problem is under examination at DNA Finland Oy service desk. After understanding that these might not be single watch related cases the first ticket was opened 3.10.2023. Only late at 5.10.2023 it was noticed that none of the roaming calls worked and the ticket was updated to escalate the priority. Today 7.10.2023 we received information from DNA service desk that this was escalated to their 24/7 network team but unfortunately the weekend team was not able to find a solution. Their specialist will be available Monday 9.10.2023 and they will continue solving the problem.
We will keep this post updated when we have new information.