Navigil wellbeing wristwatches and service have user profiles for different needs covering dementia, elderly with long term conditions, active elderly, cognitively impaired persons and lone workers.
We are proud to present the Navigil Service and Navigil 580 wellbeing wristwatch. A solution ensuring peace of mind for seniors, their families and caretakers.
Example usage and information about using safety watch with GPS technology for supporting living longer and safer at home for dementia sufferers and others with restricted capabilities.
Jussi, 85, shares his thoughts on the Navigil wellbeing wristwatch and service.
The Navigil S1 emergency watch phone has integrated GPS and mobile phone with geofence functions. When leaving the home the S1 watch recognizes that person has exit home and turns on GPS tracking. Watch sends an alarm to caretaker when the person has left the safe zone. Caretaker can use web and mobile phone to locate the person in real time.
One button emergency call
The Navigil S1 watch phone works like a normal phone and can be used to make an emergency SOS call or a normal phone call. User can make a call to caretaker or relatives to request help for day to day tasks. The S1 battery lasts for several days and can be used anywhere.
Alert and notification service
With a press of one button the user can make an instant emergency call. The Navigil S1 watch phone makes a call to preset numbers and sends location information of the user. The S1 is always on and enables fast two way voice call and intelligence call routing and handling on mobile network level. Selected caretakers can also make calls to person. Caretaker can manage preset numbers in the Navigil Rafael service and in the event of an emergency locate the user with a web or mobile interface.
Navigil S1 is the only product in the telecare market that has the features that our customers are now demanding from us. A watch is much more likely to be worn than current pendants and tracking devices.
Mr. Mark Baker
Community Alarm Manager, Elmbridge Borough Council, UK
Navigil S1 has the features that our telecare customers have been asking for. We´re happy to deliver today several hundred units these for-runner devices. We haven´t found similar or close by solutions to support our customer´s wellbeing and security at that extent than it is possible by Navigil products. We expect that our active customers will be pleased to wear a stylish wristwatch like S1 – they have been waiting for a device that doesn't label them as a person in need of help. S1 is a powerful tool that enables us to strengthen our leading market position in the area of data-driven secured and wellbeing homecare.
Mr. Aki Kuivalainen
CBO, Stella Kotipalvelut Oy, Finland
I'm so relieved and happy to recommend the Navigil wristwatch and wouldn't give it away for any reason. Hannu is also eager to wear the neat watch.
Mrs. Raija Eskelinen
Hannu's sister and carer
Hannu has Down syndrome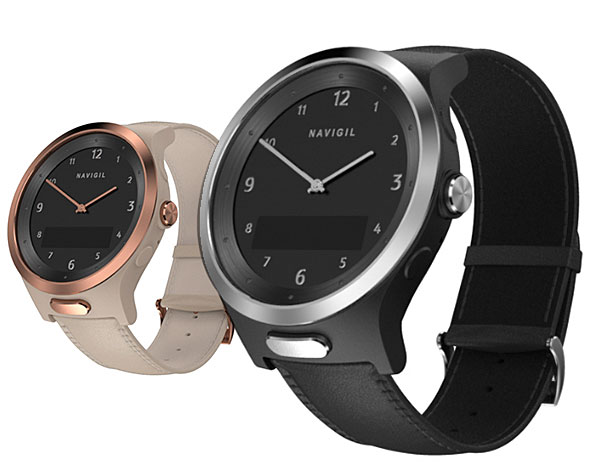 Wellbeing wristwatch
Navigil 580
is a perfect solution for persons wishing to live an independent life. The discreet analog wristwatch doesn't label wearers as persons in need of help. The LTE phone, GPS location and activity monitoring features enable calling for help with a single push of a button and locating wandering dementia sufferers quickly as well as early alert on worrisome long term wellbeing trends.