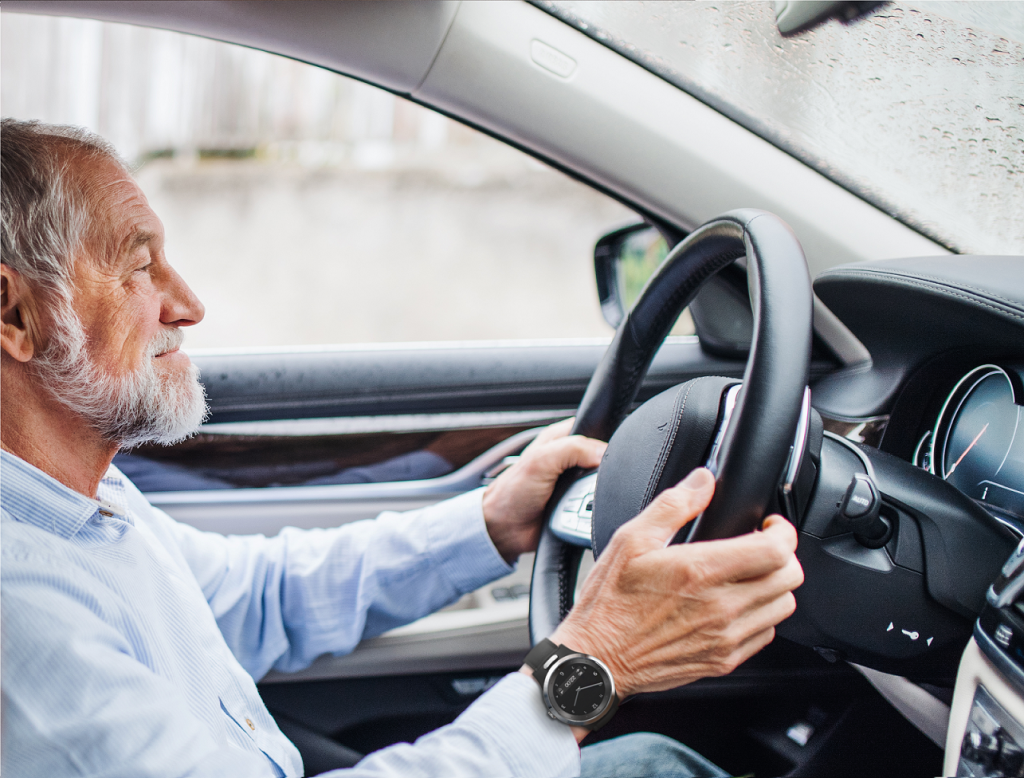 REMOTE WELLNESS MONITORING RAISES GROWING ATTENTION IN THE UK


"How is grandad doing, and has he been following doctor's orders to have a daily one-hour walk? Let's check that from the online dashboard of his wellness wristwatch, and then call him".
"Oh, there's an automatic alarm from Mrs. Brown from Bridge Lane. It seems she has not moved for three hours. We need to send a team to check what's up".


Preventative care with AI-powered wellness monitoring has become very attractive in the UK. The leading European technology provider Navigil is witnessing a clear surge in demand for new solutions that support active aging people who want to enjoy a long independent life.
"More and more elderly people seek the comfort of safe and secure living at home, and so remote monitoring is becoming more popular than ever," tells Mike Hemmings, Navigil's newly appointed VP for Global Sales. To address the fast changing environment, the company has also opened a new UK subsidiary in line with its global investment in sales and support infrastructure.
"There is an increasing pressure on the social care system for preventative care solutions driven by technology. Over the last 12 months, the pandemic, as sad as it has been, has served to heighten the need for technology enabled care," Hemmings says.
Navigil offers a comprehensive, AI-powered wellness solution based on its new 580 wristwatch with a market leading up to 4-week battery life. The Navigil 580 is the world's smallest analogue wristwatch with LTE-M mobile phone, GPS/GLONASS/beacon location, and activity and wellness trend monitoring features. Its activity tracking and wireless sensors enable early detection of changes in the wearer's wellness and timely corrective actions.

Careline Care: "Excellent aesthetics and technology"
"Careline Care has been evaluating the 580 watch with GPS and wellness tracker for the past six months, and we have found the aesthetics, the technology, both hardware and portal to be excellent. We see the development and the technology behind the 580 to be a game changer in the UK and globally," says Bradford Rogers, CEO of Careline Care Limited.
Navigil's solution is white labelled so that partners can modify it and provide it under their own brand. It is designed to be stylish, easy to use, to work everywhere, and to integrate easily into a care provider's platform of choice.
"Having worked with Navigil's team for many years, we have seen how they strive for excellence. Now, working with the UK team and having the support closer to home has also made a difference! Careline Care has ordered the 580's and we look forward to shipment."


Plenty of large scale customer pilots starting worldwide
The tangible part of Navigil's solution, the 580 wristwatch, is equipped with sensors and mobile LTE-M connectivity including voice and automated alarms. The wearer can also make phone calls directly from the wristwatch, which is connected to Navigil's online dashboard. The solution includes wellness trend data analytics, alarm call routing, and notification services.
"The product development of our leading-edge technology places us in an excellent position. The UK's telecare sector is excited about it, and our UK subsidiary is engaged with numerous important new customers. We are working closely through their respective pilots and the medium-term outlook is very solid," Mike Hemmings tells.
UK customer projects span from centralised and local government to insurance companies, private pay elderly monitoring companies, and sheltered housing providers. Around the world, Navigil benefits from its technological front runner position, and it is winning new customers.
"On top of new customers utilizing the product, we have over 50 customers either testing or evaluating our solution. We are starting large scale pilots with major players involving thousands of units in total," says Matti Räty, Navigil's CEO.
A market front runner position thanks to early LTE-M investment
Worldwide, the low power LTE-M communications technology is the strategic choice of prominent mobile network operators. LTE-M is part of the 5G specification.
"Navigil's early investment into this technology positions the company as a front runner in the market. As 2G and 3G network technologies near their sunset, longevity can be provided only by future proof technologies such as LTE-M," Matti Räty concludes.

About Navigil
Navigil Ltd. offers white label personal safety and wellness services and devices for telecare service providers, to wellness device providers and to mobile network operators. Headquartered in Espoo, Finland, Navigil's products are used in over 30 countries worldwide. www.navigil.com

#ShareAndCare #Navigil #AgeIsAdventure