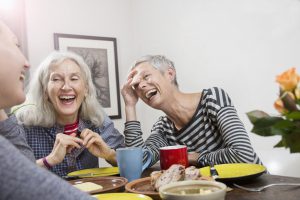 Anxiety and aging are an old pair
I frequently take part in discussions about the growing population of elderly and decreasing number of nurses to take care of older adults. Many questions arise about my own ageing. Will I have anybody to take care of me? My children should not have to worry about me. I want to act now, so that my life stays independent and safe as I get older.
My target is to live an independent, happy and long life at home. Another goal is that my children wouldn't have to be concerned about my wellbeing. I know they will anyway. At least I have worried about my parents. What could I do to dispel their concern?
I know that physical activity is as important as having the pleasure to spend time with my friends and family. I'll continue my exercises, jogging, golfing and dancing. Every now and then I'll show the activity measures to my kids – see how much I have exercised! Anyways they can't say I'm not active.
Ok, sure I may have some health problems and exercising may cause a risk. What if something happens during my jogging in the woods? Again, the children may be worried. To be honest, I also might have some doubts myself. Should I stay at home instead?
No way
I could do the jogging with my friends. Who would be available for a fun run? We can share the activities we have participated and call for companionship. We elderly can be the inspirers of each other.
When jogging or walking alone and stumbling I may call to my children for help and if they are busy, I'll reach a helpdesk service. No worries.
For healthy living I need to ensure a good nights sleep, meaning long and deep enough to feel refreshed in the morning. This information can easily be monitored, followed up and also shared with my children – if they are interested.
Both personally and for my kids, it is important to be able to live independently but also feel secured. By taking a wellbeing solution in use early enough, I will benefit from the activity and vital sign trends and communication functions targeted for active adults, not to mention the stylish design of the wristwatch. And in later days I will be capable to wear the familiar solution although I get dementia. I may still have my desirable walks without fear. If I get lost my carers could find me by tracking my location. And there is nothing to be ashamed of, even when calling for help.
At least I do my best to enjoy my life.
Today I feel happy, healthy and energetic and that is how I prefer continuing years ahead. To ensure that I take the responsibility of myself now or at the latest when my days of retirement start, I set up the Navigil Suite for me, my family and my closest friends. Me, my family and my friends, we all share and care and enjoy our active living.
VP Sales and Marketing
in Navigil
Some years for retirement